Jan Grzymski
Game Designer & Creator
Jan is an academic who has worked as a lecturer and researcher of European politics, borders, and identity for over a decade, both in Poland and the United Kingdom. He has always been passionate about teaching, engaging students in critical discussions, and innovative ways to experience and understand European politics.
In 2019 this led him to move from a class simulation for students who got lost in apprehending the final phase of Brexit negotiations to investing in a professional board game about Brexit for all those interested in politics, Brexit, the European Union, and role play, negotiation simulations. Drawing on his research and international experience, Jan is the principal game designer and creator of 'How to Win Brexit?'.
Russell Foster
Game Content Advisor
Russell Foster is a researcher and lecturer of European politics at King's College in London with a background in multiple disciplines like geography, history, and political science. He researches the relationship between the EU's symbols and European and national identity. In the last years, his prime focus was on the significance of Brexit for the UK and Europe. Russell is also currently researching cultural and fictional portrayals of Brexit Britain.
His expertise is indispensable for the team of 'How to Win Brexit?' as Russell co-creates the game texts and supervises the quality of the political content, its elements, and messaging. Russell is also advising in assuring the historical accuracy of the game.
Łukasz Łubiński
Graphic Designer & Illustrator
Łukasz is an inspirational graphic designer and illustrator who, for several years, has created numerous illustrations, drawings, and inventive graphic representations for games, cartoons, and websites.
With his skills, talent, and artistic intuition, Łukasz created the overall design of each part of 'How to Win Brexit?'. His exceptional contribution has ensured that players easily engage in the game and absorb all elements through legible graphic design and fantastic illustrations. In addition, Łukasz also created and designed the game's website and communication graphic templates.
Julie Esteve
Marketing Advisor
Julie is a professional advisor of marketing and e-commerce for various promotional campaigns. With over ten years of experience in her native France and Poland across the theatre industry, restaurants, and communication agencies, Julie helps business creators and brands gain customer awareness and build successful campaigns.
Julie's diverse expertise is the foundation for our dynamic KickStarter and e-commerce campaigns of 'How to Win Brexit? and her contribution allows for an extensive reach of the game. That immensely supports us in gathering funding and making our ambitious plans to be realised by outreaching new supporters and friends of the game.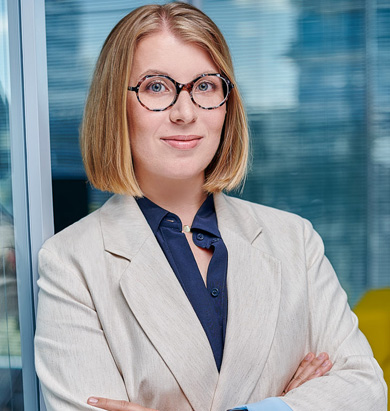 Barbara Grabiwoda
Comminication Advisor
Barbara is a communication strategist, PR manager, and an academic with over a decade of experience working in marketing departments and universities. She is supporting brands' digital growth with sustainable strategies and consultancy. Daily, Barbara combines professional opportunities with academic activities.
Her interest in innovative ways of reaching customers and commitment to engaging in creative projects led Barbara to join the team of 'How to Win Brexit?' without hesitation. She is responsible for strategic planning of all communication related to the game's development and expanding the base of our future players and followers.
Joshua Wallcot
Content Moderator
Joshua is a lecturer of International Relations and a constant, fervent follower of European and British politics. His other passion is looking at how emergent technology impacts our social and political future. He engaged in various political game contests in his home country of Trinidad and Tobago for many years.
After returning to Poland in 2022, he joined the team of 'How to Win Brexit?' with excellent skills and genuine eagerness. Joshua's daily interest in Brexit makes him the ideal content moderator of 'How to Win Brexit?', who works on the overall clarity, legibility, and functions of different game elements. He also co-creates engaging social media messages for the game's players, friends, and followers.