Help us launch the game!
See the message from the Game's Creator:
round 1
We have the prototype of 'How to Win Brexit?'
We invest our time, energy, and money into creating and testing the prototype.

Still, we seek future player's support to finish production and launch the game.


And You can HELP
You love playing board games
You are passionate about politics
You are intrigued by Brexit
You enjoy negotiating
You like supporting creative ideas

Help us launch the game!
round 2
Kickstarter begins!
We start the crowdfunding campaign on Kickstarter to gather the remaining funds to cover the production cost of 'How to Win Brexit?'. The campaign will last 30 days. We set the goal of how much money we hope to collect. The campaign will be successful only when we reach or exceed this goal!
During the campaign, we offer various awards and add-ons depending on pledges:
Early-bird – 59 € the game package with your own breaking news card
Standard Pledge – 59 € the game package
Retailer Pledge – 129 € (DEPOSIT) – at least 5x game package
Add-on – 34 € Jigsaw Puzzle with Game illustration

A successful campaign means that we will have reached or exceeded the goal.

If so, we will have enough funds to send the prototype to printing. We will need five months to print the game and deliver them to you!

Select your Pledge and Add-ons
Select your pledge and the award you wish to receive after the successful campaign. You can support us any time during these 30 days, but the early bird option will give you your own breaking news card! Be quick!
You will be able to use Kickstarter online payment system, and you will be charged when the campaign is successful. If it is not, your money will be returned.
Hey, it is your time to play 'How to Win Brexit?'…
You will be satisfied that your pledge contributed to the game's launch.

You will receive your awards, like the game itself or others, three months after the end of the campaign. From that moment, you will enjoy playing 'How to Win Brexit?' with your friends and family, at a team-building event, or during your class!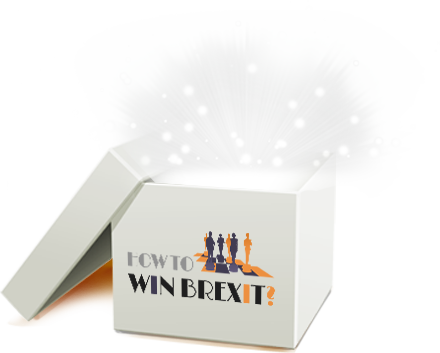 round 4
… and for us to expand!
The more funding we receive during the campaign, the more we will expand the game concept, develop new features and additions, including new cards, characters, and UK rejoning negotiations.
In addition, we plan the macro version of the 'How to Win Brexit?' for up to 30 players at larger educational and team-building events.